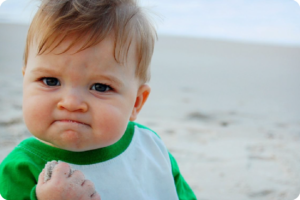 If you have met me in person, or read any of my blog previously, you will quickly find out that I am not a very serious person. I love to find humor in everything, whether it is at work, my personal life, or just myself.
For that reason, I fell in love with memes, the mix of humor and truth are typically responsible for a disturbing chuckle in the office. So I decided to make a collection of memes for sales and marketing..
If you end up not laughing at them.. those are probably the ones I made personally.. Don't worry I am not offended.
TAKEN, your IP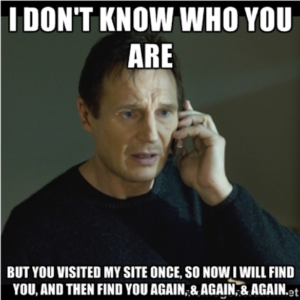 Source
We have all visited sites (if not run them ourselves) that do not like the idea of you bouncing from their site, or calling the relationship off by shutting down your browser.  They constantly remind you of your past experiences with digital ads spread across social media and other advertising networks.. Telling you to come back! Again, again, and again.
We got something to say, and we say it a lot.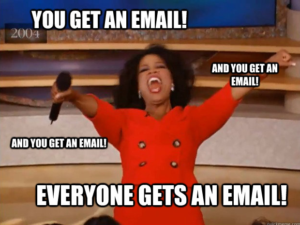 There are very few marketing channels that offer the ability to send a direct message to a single client effectively.. Sadly, due to email being the medium with this magical power, people are always tempted to send off an email for everything, mass outbound, product updates, last-minute sales pitch to meet quota, newsletters, blog feeds, etc.
The truth is, with more communication sent the fewer people want to hear from you – boosting your SPAM ratings and unsubscribes.
Being clear, very, very clear.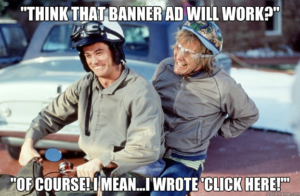 As funny as this meme is, it holds truth. As marketers, we have been told to make very clear CTAs. Your CTA should at a minimum tell the audience what they do if they click, a sale? an ebook? a demo?
As for is the – "Click Here" – on a banner ad really needed? The better question is, "Can a person that does not understand how banner ads work, become a good customer?"
Chipping away at the competition.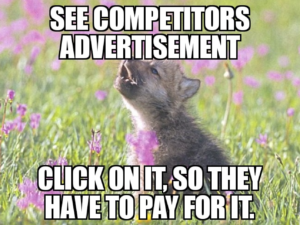 I take the competition seriously. So much so that I click on every ad I see from the competition to get them to pay for it. I am sorry you all had to learn about my dark side.
"Just give me the SWAG and nobody has to get hurt"

Trade show attendees love free stuff, but not always the pressure of talking to a salesperson. I must admit, I am to blame for this too! I have gone to booths solely to get a cellphone power block, coffee, or something to eat with no intention of ever learning about the product.
Enjoy getting the eBook sent to your inbox.
As a marketer, we get excited when we see a lead come in. Sadly, a lot of prospects do not like the idea of giving their real email address. For this reason, many marketers have elected to send you the ebook / whitepaper via email in an attempt to eliminate the anonymous downloaders.
Some of these prospects have adapted to this email technique creating 1-time email addresses, and for that I applaud you. If you put in that much extra work into keeping your email private,  instead of just hitting a single unsubscribe button, then you can keep it. You deserve it!
Let the lead read.
Content marketing undoubtedly brings in great quality and quantity of leads. The thing is, people are downloading content to learn, not to make a buying decision. The second an ebook is downloaded sales is tempted to reach out ASAP. Although reaching out to prospects fast is a good characteristic for a sales team, you have to at least give them a couple of days to read the thing they downloaded!
Watching the Sales FUNnel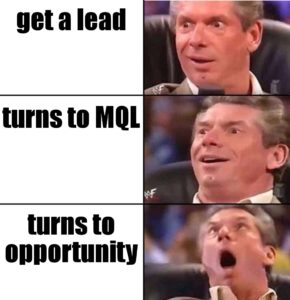 The fun of seeing all your marketing payoff! Watching the lead submit a form, engage with the brand enough to MQL, all the way to sales qualifying them as an opportunity.
Boss: "Go viral on Social Media."

I have heard from numerous superiors to make viral content. But if I knew how to make viral content 100% of the time, I would be a YouTube millionaire.
Making viral content is a little strategy, and a lot of luck.
The Day-to-Day Sales Romance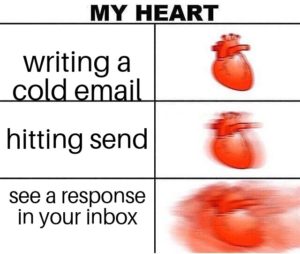 Writing a cold email is like writing a pick-up line on an online dating platform – in order to be successful, you need to be smart, funny, and witty. You put in a lot of time asking silly questions like "am I personalizing this email enough? Am I personalizing it too much? Should I not include his kid's names in the email?" – The answer to the last question is a very clear NO.
Although, this is agonizing to write sentences to only delete them, and then most likely rewrite them with a very small tweak. The most nerve-racking thing is actually sending it! That one click of a button that has the power to make your masterpiece into a possible mistake.
"Did I have a typo in that? is he David, or does he go by Dave?" Either way, the decision is done and now it is only a matter of time before you find out if this person likes you enough to escalate the relationship and "BUY".
Then you see it! A response and your heart goes wild! Does he like me? is he telling me to F* off? or is he out of office.. it is the sales day-to-day love drama. Sadly, if he likes you, repeat all steps.
Get Rid of Paper Processes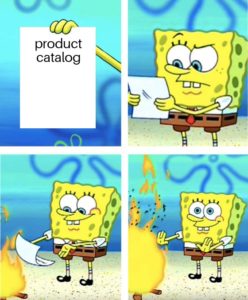 I have never ordered anything from a catalog. I guess, at my age, when I finally had money to spend eCommerce came around and made the catalog obsolete.. or so I thought.
There are some industries still using it. Which is mind-blowing to me considering I typically do 2 types of purchases.
The first is a purchase I have an immediate need for in which I will go to a retail location for. The second purchase behavior for me is something I do not need immediately and ordering online is more convenient and comes with a HUGE bonus. I do not have to talk to anyone!
Then here comes the catalog, that does not satisfy an immediate need, but is still forcing me to talk to people!
---
Subscribe to the newsletter – just one email a week
Not the over communication in the meme above.